Grid-Connected Solar Electric with Energy Storage
We can also integrate energy storage (typically with batteries) into your new solar electric system, or into most existing solar electric systems. This provides you with more autonomy in your energy production and usually provides backup during power outages.
So how does it work? As the sun shines, the energy your solar electric system generates is stored in batteries for later use. This stored energy can be used at times of high electric load, at night, or on cloudy days. Most energy storage systems provide a backup function too, to provide you with electricity for critical loads in the event of a power outage, such as your refrigerator, lights, and electronics.
You can think of these systems as a hybrid of a grid-connected solar electric system and an off-grid solar electric system. When connected to the grid, they use highly sophisticated software to optimize operation. They carefully direct energy from the solar to your loads, the battery, or the grid as appropriate, and draw additional energy from the battery or the grid as needed. When the grid is down, solar and batteries work together to provide energy for your critical loads. If extra energy is available, it's used to charge the batteries.
If you are thinking of installing a solar electric system with energy storage, we will consult with you to estimate how much energy you will use, select loads to be served by solar and energy storage, and design a system to meet your needs. If desired, we can also design and install the system to allow for easy future expansion of both storage and solar.
For existing solar electric system owners, we can usually integrate energy storage in your system and provide the same functionality.
Energy storage can also help protect against future energy cost increases, especially if utilities are able to impose drastic rate changes such as demand charges or reductions in credits for solar. A system with energy storage allows you to keep as much energy as possible at your home, rather than send it to your electrical utility, reducing your exposure to such changes. It's good to be independent!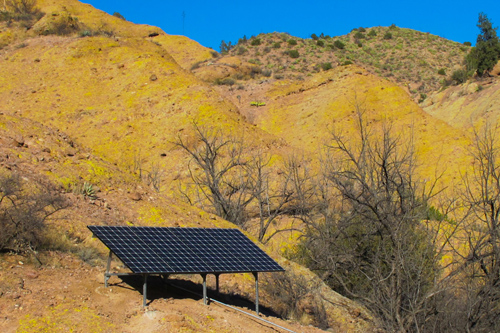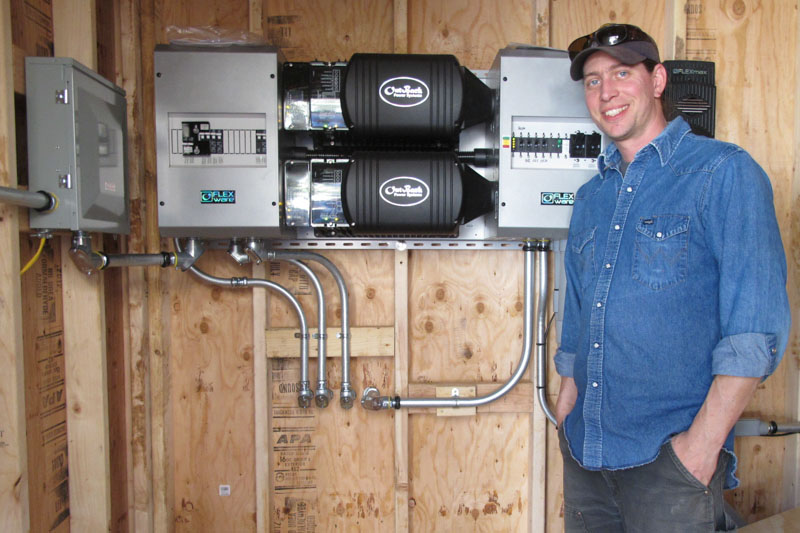 Off-Grid Solar Electric
Off-grid solar electric systems use the same type of solar panels as a grid-tied system but use a different style of inverter, charge controller, and storage batteries. The energy produced from the solar modules (DC) is regulated by a charge controller and routed into a bank of storage batteries. The energy is then drawn from the batteries through an inverter and converted into regular AC electricity for your home.
Customers who live in remote areas that do not have access to electrical utility lines and need electricity to power their homes might choose an off-grid solar system. These systems sometimes are used as the sole source of electricity for a home, but more often they're used in combination with other energy sources, such as a back-up fossil-fuel generator.
Net Zero Solar can build a system customized to your lifestyle as well as your budget. It's important to complete an accurate load estimate in order to design and build a custom off-grid power system that meets your needs. If you're ready to move forward with your dream of a self-sustaining lifestyle, please call us to set up a consultation.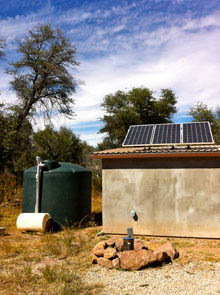 SOLAR WELL PUMPING
One of our favorite applications for solar power is pumping water from a well, or providing water pressure to a residence. Well pumping systems generally have a solar well pump, solar panels, controller, float switch, and a cistern. While the sun shines, the solar panels send power through the controller and down into the well, where the pump then sends water out of the well and into a cistern. When the cistern is full, the float switch signals the pump to shut off.
Solar well pumping systems offer the peace of mind that comes with knowing your most vital necessity—water—will flow as long as the sun shines. For customers whose property is not reached by the utility grid, or who experience frequent blackouts, simplicity and reliability make this one of the best applications for solar.