To us, solar isn't just about technology.
It's about our customers.
We love to talk about solar, but there are people whose words we think should carry even more weight than ours: those of our customers! We take enormous pride in making 100% of our customers happy. Our commitment to quality and service, our honesty and transparency, and our responsive communication all rate highly with our customers. They also appreciate that we're not only professional, but also fun and friendly!
Customers are the very heart of our business. We love solar, but we love people even more. Many of our customers say that once we've worked with them, we feel like family. We couldn't agree more. Each custom-designed system we create is such a good fit precisely because we take time to get to know the people, not just the building. We not only bring technical expertise and competence-we care.
Here's what some of our customers have to say (and also check out our 100% five-star reviews at SolarReviews.com).
---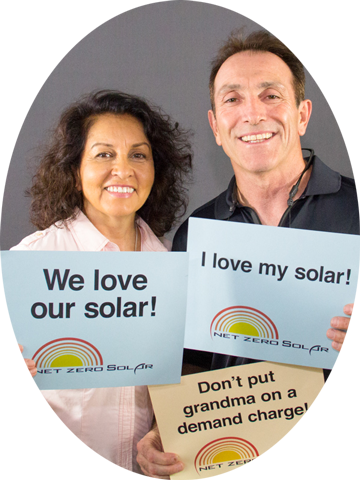 My 5 kW system was installed by Net Zero a couple months ago. Chad and his team did a great job, from the initial proposal to the adjusted proposal (accounting for neighbors' concerns regarding panel visibility), to the installation. The quote was by far the lowest of the three companies I got proposals from, but the service was still top-notch. For example, TEP was quite slow in approving the system but Net Zero was on top of it, constantly checking in with TEP for updates. Bottom line: the team at Net Zero know what they're doing.
- Justine S.

---

Chad and the team at Net Zero Solar are among the very best people I have ever worked with. The did what they said they would do, on or ahead of schedule and within cost. The level of professionalism they showed me is rarely seen in the area where I live. They made me feel as if my business was important to them throughout the process and they made things incredibly easy. I would enthusiastically recommend them to anyone looking for a solar system. Thanks!!
- Steve U.
---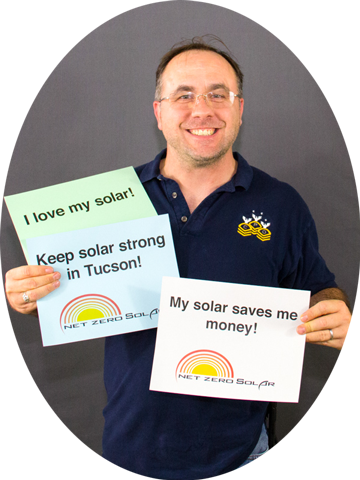 Their estimate was spot on and the installation was very professional and quick. I've had my system for a year now, and loving every second of it!
- Darren B.

---

Net Zero Solar is a good local solar company. We are very happy to have hired them to generate our electricity for us instead of continuing to give so much of our money to a Canadian conglomerate monopoly (Tucson Electric / Fortis Corp)! Net Zero Solar company President Chad is very friendly, professional, and accessible. Of the three companies we asked for quotes, Net Zero Solar was the only one willing to work with us to consider our efficiency upgrades and estimate our future energy use. The other two companies tried to sell us systems that were way larger, and more expensive, than we actually needed. Net Zero Solar helped us get into something that meets our needs and that we can afford. I actually get excited when I see their truck around town putting up another system! Also, I made a couple recommendations to friends, and Net Zero Solar found out I had mentioned their company, and since both of these friends went solar with Net Zero Solar, they sent me a $200 check for each referral!
- Dan M.
---

We selected Net Zero Solar to install a residential Solar PV array on our property. We requested quotes from six vendors, received five quotes and selected Net Zero Solar based on installation design/equipment, price, customer service and installation window. Chad Waits was our initial contact with Net Zero. Very knowledgeable about Solar PV and the Tucson solar market.
All our dealings with Net Zero were straightforward, professional and prompt. Everyone we dealt with at Net Zero was professional and courteous from Chad and Trace in the office to Mike and installation crew. The installation was accomplished in 2-1/2 days with a minimum of fuss. The install guys took the time to answer all our questions and walk us through the operation of the system including the Enphase monitoring. We're very happy with Net Zero Solar and have recommended them to others.
- Karl S.
---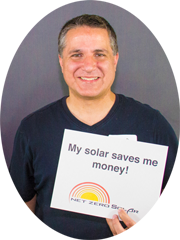 Chad and the team offered a better system at a better price (microinverters and included monitoring rock!). Installation was high quality and completed on schedule. Very glad I chose Net Zero.
- Jeff R.

---

Net Zero Solar installed a PV solar system on our house, and we love it. Professional company, great work, we highly recommend Net Zero Solar!
- Dean T.
---

I would highly recommend Net Zero Solar when you have decided it's time to go solar. They are very professional, yet approachable with all of your questions. Their work crew were great, arrived on time, no fooling around and the work they did was excellent. I am so happy I finally went solar! Net Zero made it a great experience! Can't beat saving $ on electricity! CAN'T BEAT NET ZERO SOLAR!
- Mere
---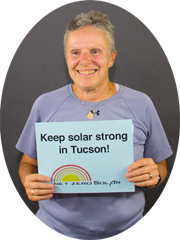 I have waited years to get solar panels and I love them. Net Solar has been great. They have been professional and answered all of my questions. They have been patient (we were building a new building on which the solar panels would go). I strongly recommend Net Zero Solar!
- Patricia G.

---

Had a 6.16kW PV system installed by Net Zero Solar in Dec 2014 and have been very satisfied with it. All my questions were answered. The install itself was very well done and every attention to detail was paid. I would highly recommend Net Zero Solar!
- Scott F.